5 Things You Need to Know About Whats on Your Plate (And How They Effect Your Teeth)
There is nothing better than a home cooked meal especially during the holidays.  Indulging in the foods you love on Thanksgiving is okay, but feasting on the leftovers for the next 3 days will leave you feeling like a stuffed turkey.  So before you dive in fork first, get the dish on those popular sides!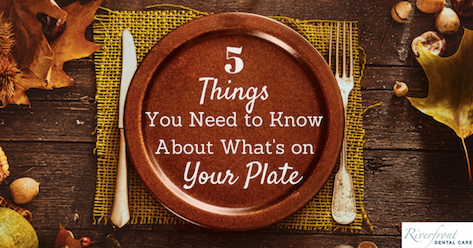 Green Bean Casserole
Pro: Green beans are extremely rich in minerals and vitamins, making them one of the healthiest choices at mealtime.
Con: This time of year, green bean casseroles appear on the covers of most fo
od magazines and is a big hit on the table during Thanksgiving dinner.  Here's the dish on this side:  Although delicious, this turkey day staple is made of mostly processed foods containing extremely high levels of sodium and fat.
Tip: Cut the calories by serving steamed green beans.  Less is more!
Cranberry Sauce
Pro: Cranberries are a great source of antioxidants and are high in fiber and Vitamin C making this berry good for your overall health.
Con: Traditional store bought cranberry sauce is full of cavity causing sugar.
Don't forget, cranberries are in the "teeth staining family" so be sure to brush or rinse your teeth after eating.
Tip: Traditional store bought cranberry sauce is loaded with sugar.  We all know what sugar does to teeth, right? You can easily make your own delicious cranberry sauce that is much lower in sugar by substituting orange juice and 3-4 tablespoons of honey for that full cup of sugar normally added.
Sweet Potatoes
Pro: Sweet potatoes themselves are a great source of magnesium, potassium and are high in Vitamin C which is helpful in bone and tooth strength and formation.  They are high in fiber and loaded with vitamins and minerals that play a role in energy levels and also support healthy immune systems.
Con: Sweet potato casseroles with marshmallows and added sugar can easily stick to your teeth and raise the risk of tooth decay.
Tip:  Leave more room for that extra slice of pumpkin pie by ditching the marshmallows, sugar and extra butter.  Instead, sprinkle chopped pecans, coconut, cinnamon and a drizzle of honey on top.  This delicious and nutritious root vegetable will be sure to please any crowd.
Turkey Gravy
Pro: This might come as a surprise but gravy is the healthier choice when compared to some homemade or store bought canned cranberry sauces.  Cranberry sauce especially jellied cranberries contain more calories and has a high sugar content.
Con: Everyone knows that gravy is made from the fat and drippings during the cooking of the turkey. Need we say more?
Tip:  Turkey gravy is like liquid heaven and always a Thanksgiving dinner staple.   We don't recommend skipping it all together, just try not to drown your plate in it.  Remember to use in moderation and a little bit of gravy goes a long way.
Turkey
Pro: If you stick to the white meat it can be a great source of protein and also a good source of lysine, an amino acid that aids in calcium absorption.
Con: Turkey meat is easy to get stuck in between your teeth.  Don't forget your floss!
Tip: Staying away from the thighs means you will have less calories on your plate and more room in your waistband. You can even cut that pumpkin pie slice a little larger when dessert time comes.
The holidays are a special time of year when we get together with family and friends we do not see all of the time and enjoy the foods we do not get to eat every day.  Eating mindfully on Thanksgiving doesn't mean you have to avoid your favorite dishes all together.  Stick to single servings and try to fill up on fruits and vegetable before dinner is served.  It will cut down on feeling bloated and tired by the end of the night.  We wish all of our patients a very happy and healthy Thanksgiving!